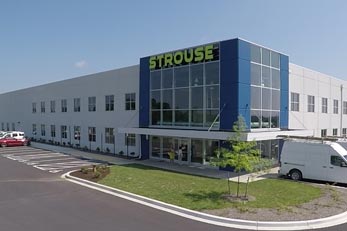 15 Sep

Strouse Responds and Ramps-Up Production for USA Manufactured Face Shields Demand

WESTMINSTER, MD – September 15, 2020 – Strouse, a leader in the custom adhesive solutions industry, sprang quickly into action late March to develop the Strouse Face Shield due to the mass shortage of personal protective equipment (PPE) for healthcare workers in the United States. Phil Kehne, Strouse's Engineering Manager, swiftly developed a plan. With the support and creativity of the Strouse team, ideas were formulated into action, and modifications were made to the initial prototype. The end result presents a product that provides the ability to successfully perform day to day responsibilities comfortably, efficiently and safely while wearing the Strouse Face Shield. Face Shields are often preferred over masks when communication is important. Notable features include a lightweight design for hours of comfortable use, one size fits all, anti-fog and latex free material.  The face shields are also offered at an affordable cost. Strouse is also proud to manufacture and ship its face shields in the USA.

Strouse was awarded a Maryland COVID-19 Manufacturing

Grant that helped support the automation of the manufacturing process. Strouse completely automated the manufacturing process using existing technology. This helped ramp up the production to 300,000/week. The innovative shield design harnesses decades of product design experience and delivers a low-cost, face shield that is made 15 mil thick and shatterproof to protect the eyes, nose, and mouth from airborne droplets.
Sue Chambers, President shared that "When the Pandemic hit, we prioritized all resources to our products that could help those on the frontline. We are proud of our employees' resilience and our ability to manufacture PPE, especially Strouse Face Shields". Strouse is also pleased to have recently donated over 2,000 face shields to the local non-profit and small businesses in the Westminster, MD, and surrounding area.
The Strouse Corporation is proud to announce the launch of their online Strouse Face Shield store,  https://www.strouse.com/buy-face-shields. Starting September 2, 2020, the public has access to purchase the same lightweight, durable, and cost-efficient face shields that were first produced for healthcare workers at the height of the COVID-19 pandemic.  Within just a few clicks, the Strouse online face shield store can easily and affordably provide shoppers face shields in just 3-4-days.
Strouse is focused on continuing their production efforts of safe, comfortable, and cost friendly face shields for anyone in need.  For more information please visit us at www.strouse.com.
About Strouse:
The Strouse Corporation is a leader in the custom adhesive solutions industry through strategic investment in sophisticated technology and creative, skilled employees that provide solutions to enable customer growth in global markets. Strouse has diverse manufacturing capability for precision die cutting of pressure sensitive adhesives, allowing to solve adhesive applications in very market. Strouse serves in the Medical, Aerospace, Industrial, Automotive, Electronics, and Military & Defense industries.
Source: Strouse Corp. Press Release