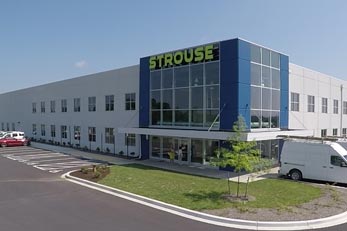 21 Sep

Strouse officially opens new facility

Strouse Corporation celebrated its new manufacturing facility with a ribbon cutting on Monday, September 17, 2018. Approximately 100 guests attended the ceremony at 1211 Independence Way. Strouse was praised by local officials including the Carroll County Commissioners and the Carroll County State Delegation. Strouse was especially honored to have Maryland Lt. Governor Boyd Rutherford serve as a keynote speaker at the ceremony.

Strouse, named the 2017 "3M Supplier of the Year", is a leading supplier of adhesive die cut solutions to medical and industrial customers. Major customers include 3M, Ford and Medtronics. The new 65,000 square foot facility will enable Strouse to streamline manufacturing operations and serve new markets. The company employs 75 people.

"Our drive for innovation has propelled our growth, enabling us to hire additional staff, invest in their development and purchase leading edge equipment and technology to better serve our customers," said Sue Chambers, President and CEO of Strouse. Ms. Chambers attributed Strouse employees as the main driver behind the company's success.

"We are pleased to support Strouse's new manufacturing facility and proud that a home-grown Maryland company is working to develop innovative solutions for a number of industries," said Maryland Commerce Secretary Mike Gill. "Manufacturing companies all over our state are continuing to grow and add jobs, and we are pleased to work with our local partners to ensure that these companies know how much they are valued here in Maryland."
Dennis Frazier, President of the Carroll County Commissioners, was particularly pleased to congratulate Strouse. "Supporting the growth of resident industries is a key focus of Carroll County Economic Development. That makes the expansion of Strouse Corporation so significant. By staying here and choosing to invest in Carroll County, Strouse has illustrated confidence that Carroll County is a supportive location that will allow the Company to grow to its fullest potential."