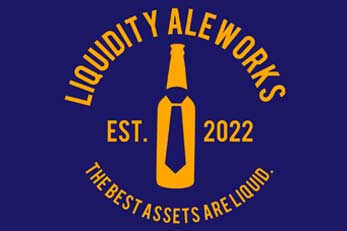 07 Nov

Liquidity Aleworks Opens this Week in Mount Airy

Liquidity Aleworks, a new craft brewery located on Main Street in Mount Airy will open it's doors this week following over 8 months of construction to the 1930's era bank building.  The initial open hours this week will be Thurday, November 10th 3-8pm; Friday, November 11th 3-9pm; Saturday, November 12th 12-9pm and Sunday, November 13th 12-8pm. Additionally, they will have local Mount Airy food vendors on site each day.

Originally posted: March 15, 2022
Source: The Daily Record
Liquidity Aleworks, a new craft brewery founded by partners Ray Tignall and Billy Deavers, has chosen Prospect Mill, a 5,500 square foot free-standing building located in the Main Street area of Mount Airy, as the site of its manufacturing operations and taproom.
The structure, built in the 1930s, was last used by Farmers & Merchants Bank as a branch banking office more than 20 years ago. Liquidity Aleworks is expected to open in May and will employ approximately 15 full and part-time workers when all hiring is complete.
Dennis Boyle and Chris Walsh, both vice presidents of MacKenzie Commercial Real Estate Services, LLC represented the landlord, Catonsville Homes.
Located at 8 N. Main St., the site first contained a building utilized by Jones & Co. Bankers and, later, The First National Bank, in the early 1900s before being destroyed by a fire in 1914. After being rebuilt, the replacement structure was also consumed and totally lost to a fire in 1925 before a fire-proof building was constructed in the 1930s. It also housed the Mt. Airy Building & Loan Association, before relocating to across the street. Two years ago, a volunteer-based group initiated efforts to revitalize the building and the surrounding acreage for community-based activities.
Liquidity Aleworks will also be equipped with an outside grounds and patio area to host special events and beer tastings.
Liquidity Aleworks received assistance in the form of a Project Restore grant award from the state of Maryland, Boyle said. He added ownership investment will exceed more than $1 million to retrofit the building and transform it into a viable brewery operation.
Boyle said the brewery will become a major attraction and strong economic development generator for Carroll County and the town of Mt. Airy and stimulate more businesses to relocate to the Main Street area.
The craft brewing industry in Maryland received a shot in the arm after regulations were relaxed several years ago to allow higher production volume. Since then, new breweries have opened across the state and have become centerpieces in their respective communities."
Nearly 20,000 people reside within a three-mile radius of 8 N. Main St., including approximately 6,000 households with an average annual household income approaching $145,000.