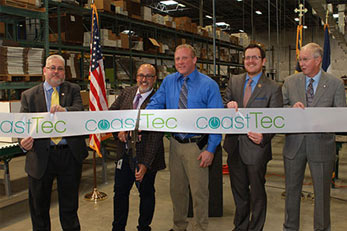 21 Mar

CoastTec Moves to Carroll County

CoastTec, a Maryland-based refurbisher and recycler of American Power Conversion (APC) Uninterruptible Power Supplies (UPS) announced today that it will relocate from Baltimore County to Carroll County. CoastTec will move into 62,500 square feet of office, plant operations and warehouse space in Eldersburg, Maryland.
From Left to Right- Commissioner Doug Howard, Jon Sevel-Chief Executive Officer, Adam Sevel-Chief Operating Officer, Senator Justin Ready, and Director of Economic Development, Jack Lyburn.
The relocation will enable the growing company to expand its capabilities and have more room for equipment and staff as the company creates a larger presence in this specialized technology sector.
CoastTec provides companies representing a cross-section of industries from around the country including well known clients such as Toyota, Hershey, NASA and Edwards Air Force Base, as well as the nation's top universities and hospital systems, with reconditioned UPS. Since opening nearly three decades ago, CoastTec has become an industry leader in UPS lifecycle management and is the only company authorized by APC to do reuse, remanufacturing to component level, and certified pre-owned sales in the United States. The company enjoyed significant growth in 2016 and is relocating to increase work space, integrate more efficiencies into their operations and create a specially designed area of the new office for more customizable projects. The new headquarters will enable CoastTec to expand its scope of work which, in turn, will allow the company to market itself as more valuable to systems integrators and clients.
"The new Carroll County offices of CoastTec are larger, more customized and give us great opportunity to meet the growing demand for our services and expand our work offerings," said Jon Sevel, Chief Executive Officer of CoastTec. "We see this move as an opportunity to grow our job base in a very business-friendly County that has really rolled out the red carpet for our company. We are excited to be a part of the growth in this region."
With this move, the company will also legally change its name to CoastTec, LLC. Formerly Coastal Business Machines, LLC, CoastTec has been the preferred and recognized name of the company within the technology sector for the past several years.
"I am happy to welcome CoastTec to its new home in Eldersburg!" said Jack Lyburn,
Director of Economic Development for Carroll County. "As a Carroll County company, CoastTec's growth will be supported by our strong workforce and supportive business environment. I am exceptionally pleased that CoastTec has already hired several Carroll Countians to its staff. My department has enjoyed working with Jon and Adam over the last year and look forward to watching the company flourish in Carroll County."
About CoastTec: For 29 years, CoastTec has been setting the industry standard for reconditioning and repairing single-phase APC Uninterruptible Power Supplies (UPS) and is the only APC-certified out-of-warranty service center in the United States. All of CoastTec's work is performed by its own team of engineers and APC Certified Repair Technicians. Working with small, mid-size and large businesses, CoastTec's clients represent a cross-section of industries from around the country. To learn more about CoastTec, visit www.coasttec.com.
source: CoastTec Press Release