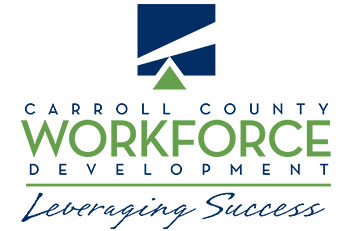 03 Feb

Carroll County Announces Workforce Development Rebrand

Westminster, MD, Thursday, February 3, 2022 – Carroll County is excited to announce the rebranding of the Carroll County Business/Employment Resource Center (BERC) to Carroll County Workforce Development, with the launch of a new logo and marketing campaign. The new brand and logo were revealed during the Board of Commissioners' Open Session this morning.

After being established as an independent workforce area of the state last year, and now governed by a new board of directors, the local workforce development agency seeks to expand its services beyond the walls of its Westminster center.

Carroll County Workforce Development, a vital part of the Carroll County Department of Economic Development, provides workforce-related assessment, training, and recruitment services to citizens and businesses. Economic Development Director Jack Lyburn says, "A primary focus of every business today is finding and training workers and we have the resources to meet those challenges. Customers will find the same excellent services, trusted community partnerships, and experienced and helpful staff from Carroll County Workforce Development moving forward."
"This is an exciting way to introduce a new chapter in Carroll County workforce development. BERC has years of success in assisting our residents and businesses with their needs and this rebranding as Carroll County Workforce Development is a new look to an already successful initiative," said Commissioner Ed Rothstein. "Workforce development is a critical economic development tool necessary for a thriving community and CCWD will continue to provide outstanding services to our job seekers and businesses."
Board President Zach Tomlin shared, "It is an exciting and rewarding time to help businesses meet their workforce demands which will help them to sustain and grow. The commitment from our workforce development team and community partners is to focus all of our resources developing talent pipelines for Carroll businesses."
Look for the new brand on all upcoming advertisements, communications, and social media platforms.
About Carroll County Workforce Development:
Carroll County Workforce Development (CCWD) is Economic Development's workforce agency that is part of America's Job Network. The CCWD mission is to develop a highly trained and effective workforce for new and existing businesses, to assist individuals in achieving employment and to encourage lifelong learning. CCWD's federal funding for Program Year 2021 is $2,909,562.68. This represents 87% of available funds. Services are offered Monday through Friday, 8 a.m. to 4:30 p.m. For more information, please call 410-386-2820 or visit the website at www.carrollworks.com.